About Us
Understanding of customers wants and acceptance of new technologies in production paves way for a company to reach the position of glory. Consciousness of this truth has made
Key Gold Enterprise
, a reliable name of the Indian market. How long a company has worked in the industry doesn't seem to make any difference if knowledge of that business unit regarding changes taking place in the industry is negligible.
Existing clients are astonished at the ease with which we do business smoothly, recommend our name to others looking to buy
Food Colours, Beverages Item Color, Confectionery Industry Colours, Dairy Industry Item Colours
and much more.
Our company as a
manufacturer
maintains focus over quality of products. Reason of this lies in understanding regarding quality being the sole ruling element of a product. We adopt strict quality checking policy to ensure quality production, packaging and delivery.
Consistency in quality is maintained to avoid serving anything inferior to clients. As our product line finds major use in pharmaceutical and food and beverage industries, we give extra care to its packaging. On the grounds of safety, packaging materials are tested so that only fresh and quality-approved products reach to clients.
A Company to Remember
We are a company to remember for an infinite period of time for sourcing quality-approved Beverage Items Flavour, Confectionery Industry Flavour, Dairy Industry Item Flavour, etc. Reason of our business entity being an ideal choice to buy aforesaid products lies in the quality-focused production. Experts prepare offered line with high perfection adhering to international quality norms. In addition, special attention is given to well-storage and shipment of products so that not a single trace of an error could be found in range. Below mentioned are some reasons to remember us for deals:
We complete orders on time.
Clarity in deals is maintained.
Compromise in quality of products is never made at our company
Delivery of offerings is done on time.
What We Promise to Clients?
Promises are meant to be fulfilled and not broken because a broken promise results in a broken trust and trust in business is very crucial. We are here to last and this can be done majorly through gaining trust of maximum number of clients. Winning trust of customers largely depends on fulfilling promises made to them on time. Knowing this well, we live by the very first and crucial promise of working on moral grounds and never indulge in cheap business tactics. We promise to customers, a relationship filled with honesty and loyalty with zero chances of betrayal.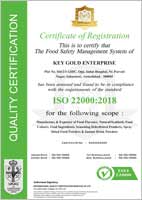 Read More